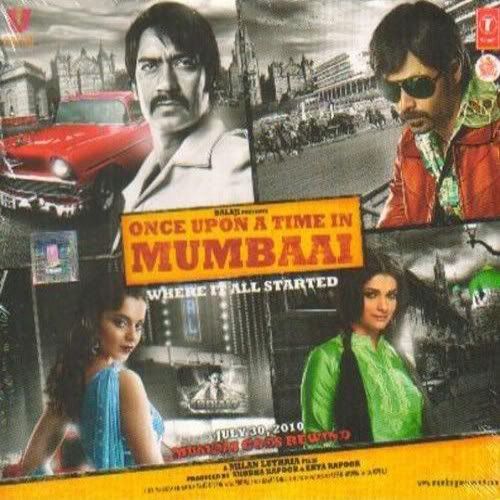 While the soothing strains of Pee Loon have a very calming effect on me, I gnash my teeth whenever I come across a fawning review of Once Upon a Time in Mumbai - and there are quite a few of them around. For me, this movie stands for almost everything that is wrong with our Bollywood style of movie making. Dont judge me - I am not being an elitist. I love our desi movies as much as anybody else. I enjoy all the multiplex movies, the timepass movies and a long time back, even Priyadarshan movies. We have been making some very good movies recently - mostly small budget, but comparable with the best in terms of screenplay or plots. However, the one thing our desi filmmakers do not know how to make is serious movies - movies on serious topics, biopics etc - barring exceptions like Mani Ratnam maybe.
So when a filmmaker comes out with a mafia movie and acknowledges its based on the life of a famous smuggler Haji Mastan, its infuriating to find the movie full of inconsistent logic, wrong dresses/looks for its period and the general unprofessionalism that passes off in regular hindi movies. Its more infuriating because the story that is being narrated is really good - and the movie could have become a real masterpiece. Haji Mastan was indeed a larger-than-life figure who was loved and revered by many in the city. Instead, the movie is almost a caricature, an overwritten film, filled with inane flamboyant dialogues like "
jinki manzil ek hai, woh raaste par hi milte hai
" which amuse for sometime, but make you despair when you realize the movie is composed entirely of punchline dialogues.

Post independence, when India was trying to find its socialist feet, the permit raj and high import duties made smuggling a very lucrative business - and maybe even a necessary evil (esp during the prohibition days). In the 60s and 70s three names flourished in the Mumbai underworld - Karim Lala, Varadarajan Mudaliar and Haji Mastan. Haji Mastan was the most flamboyant of the trio, living on Pedder Road, hobnobbing with film stars like Dilip Kumar, Dharmedndra, Feroz Khan etc. and even producing & distributing movies. He even married a B-grade actress Sona (who still lives in Juhu). Varadarajan Mudaliar's life has already been immortalized on the silver screen by Mani Ratnam and Kamal Hassan in the mega-acclaimed Nayagan. Haji Mastan's life story had much more masala - if you can, do read up more on him. In a godfatherseque ending, he even chartered an entire Indian Airlines plane to bring back Varadarajan Mudaliar's body from Chennai to Mumbai, to honor his wish for last rites to be done in Mumbai. Haji Mastan himself died of a cardiac arrest in 1994

Once Upon a Time in Mumbai tracks the life of Sultan Mirza (Haji Mastan's original name was Mastan Mirza) as he grows up to become a notorious, but benevolent smuggler - a perfect robin hood. Always ready to help the poor, acting as a godfather for 'his' people - settling disputes, dispensing justice etc. All the while, driving around in a Mercedes, smoking expensive cigarettes and wooing top heroine Rehana. And ofcourse, always outsmarting the police. Alongside, it also tracks the rise of Shoaib, son of a police constable, who has a burning desire to become rich and famous fast at any cost - whose idol is Sultan Mirza (Apparently Shoaib's character is based on Dawood Ibrahim, but I couldnt verify the factuality of Shoaib's story). The blackness of Shoaib's heart is exploited by ACP Agnel Wilson, who sees his ruthlessness as the only way to break Sultan Mirza's hold on the city.

The story, as I have mentioned before, is pretty good (and also very similar to Company, if you noticed). But Ajay Devgan and Emraan Hashmi do well enough to make it appear a completely different movie. Kangana Ranaut looks nice throughout the movie (and thankfully nothing like a psycho) while Prachi Desai is just a waste - her character confused and irritating. Not to mention, the irregularities are more prominent for the female characters. Kangana keeps showing very generous amounts of (her admittedly meagre) cleavage throughout the movie, making you wonder whether you are looking at the 1970's or the 2000's. Agreed Zeenat Aman & Praveen Babi were in the 70s, but they were an exception, not the rule. And the outfits of Kangana Ranaut didnt seem consistent with the time, especially accessories like earrings etc which were glaringly modern. Prachi Desai's costumes arent a problem - she is clad in salwar kameezes like a demure muslim girl. However, her promiscousness is an entirely different matter. Openly necking and smooching Emraan Hashmi in broad daylight - who did that in the 70s ? And esp a muslim girl ? In which muslim localilty even today can a guy go over to a girls house and have sex whenever he wants ? Maybe if the girl is a prostitute or a 'loose' character - but Prachi's innocent face suggests nothing like it and neither does the movie.

Such glaring logical and detailing mistakes could have still been sidelined, if not for the atrocious dialogues. What starts off as good 70s masala fun with punchline dialogues like "

Jab dost bana kar kaam ho sakta hai to dushman kyun banaye

", becomes tedious after a while and you really lose it when even the romantic scenes are a exchange of such dialogues and metaphors ! And the director keeps the best for a speech in the last, including gems like "

har kitab ki kismat mein library nahi hoti, kuch kabadi ki dukan mein milti hai

" - but you are now groaning at the punchline overload. And this is the single biggest reason this movie doesnt work

On the plus side, there is one not-to-be-missed scene in the movie which deserves to be watched on youtube, if need be. Its Shoaib's introductory scene in the movie, when he is just a kid stealing coins from a public telephone. The kid's performance is fabulous ! Too bad he had just once scene ...





PS - The stature of people like Haji Mastan & Varadarajan Mudaliar can be best summed up by a quote from a senior police inspector "However powerful Dawood and other gangsters like Chhota Rajan are in comparison with Karim Lala, Haji Mastan et al, they cannot expect a peaceful death given the amount of hostility evoked by them"